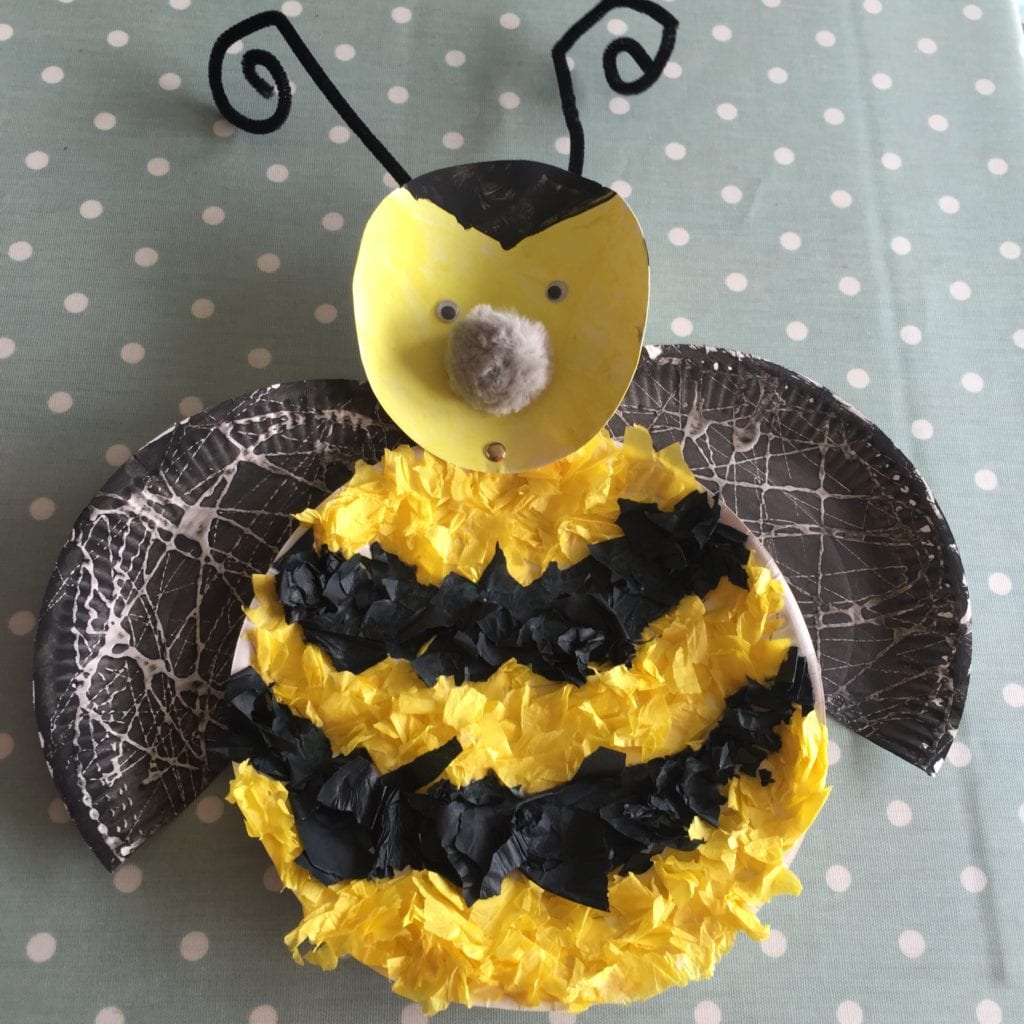 This is a really lovely simple kids craft to make a paper plate Bumble Bee.  It is equally suited to both pre-school children and primary school age children.  You would just need more parental involvement with the younger kids. Perfect for rainy days in the holidays.
This little craft project actually came about as an entry for our local horticultural show. In the under 5's category was a class for a Bumble Bee made from any media.  Oliver wanted to enter, but I was all too aware that he can get bored very easily with craft projects.
We do a lot of crafting in our house, from making peg and pipe cleaner crocodiles; decorating wooden spoons or even making Humpty Dumpty.  Oliver always loves to join in initially, but often his attention is short lived and he loses interest. What he does like to do is make a mess, tear up bits of paper, and when paint is out he likes to smoother things in black paint! I had a load of paper plates left over from birthday parties and had been looking for crafts to use them in, so we decided to make a paper plate Bumble Bee, and use craft techniques that Oliver would enjoy.
Making Your Paper Plate Bumble Bee
You Will Need:
3 Paper plates
Pencil
Gloopey glue
Black and yellow tissue paper
Black and yellow paint
Hole punch
Split pin
Pom pom
2 google eyes
2 black pipe cleaners
How You Do It
The first thing we did was make the body.  I drew some lines on a paper plate and covered alternate stripes in gloomy glue.  Oliver then tore up the yellow tissue paper into little bits and stuck it on the stripes.  When they were covered in yellow we repeated the process on the other stripes but used the black tissue paper.
To make the head I cut a circle out of the inner part of another paper plate, and drew a triangle at one end.  Oliver then used paint to colour in most of the head yellow, and the triangle in black.
The wings we created with yet another paper plate.  I cut a paper plate in half, and then drizzled gloopy glue all over it.  When the glue was dry, Oliver painted all over it with black paint and then wiped it off with some kitchen towel.  This was really messy, which Oliver loved! I would definitely recommend aprons for this part!
When all the components were completely dry, I used a hold punch to connect the pieces together using a split pin.
To finish off the head Oliver glued on two google eyes and a pom pom for the Bumble Bee's nose.  I then secured two pipe cleaners with some sticky tape on the back of the head for antennas.
That's it! Our simple paper plate Bumble bee.  What do you think of him? Oliver was very chuffed when he won first prize at our local horticultural show too.
What crafts do you do with paper plates? Have your kids entered their crafts into any shows?
If you'd like to keep up with all our crazy kids crafts, then fill in your e-mail address below and follow us on our journey to blissful domestication!
Kerry x
[convertkit form=5054951]